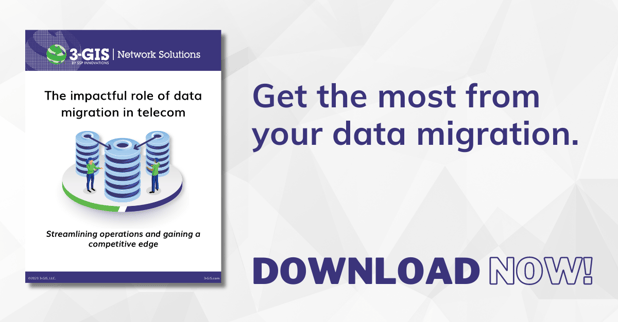 In the fast-evolving landscape of telecommunications, data management is pivotal to successful network development, construction, and operation. As an increasing number of network management solutions reach obsolescence and internal systems become too cumbersome to maintain, data migration has emerged as the strategic solution for telcos looking to use legacy data to make more informed decisions, cut down on IT upkeep, and streamline BSS and OSS processes. But how do network operators know when it is time to make the move?
This eBook delves into the world of data migration in telecom, focusing on what it is, why it's needed, and the methodology 3-GIS has developed to ease the process. By this eBook's conclusion, you will possess a better understanding of:
Data migration's core principles

Why enterprises embark on data migration

Industry-specific advantages it brings
Complete the form on the right to download this eBook.